---

Home | Info | Music | Live | Multimedia | Links
---
April 4, 2011: An open letter from Jimmy:
I am grieving for my brother, Eddie, who took his own life. The band was finishing up recording a new project and this work will be completed. After that is done, I do not know if I can continue doing this anymore.
I have not written any lyrics for many years and the main reason for this is that every lyric I came up with was in some way related to various forms of intense human suffering and their roots in failed systems, deceipt, malfesance, and cowardly cruelty. The years and years of Eddie's suffering with no end in sight, at the hands of dispicable snakes and butchers who one by one turned their backs on him, kept rearing their head as I tried to write. I could not bear to put into writing what I already knew was inevitable.
My family and I, and all those who loved Eddie, were powerless to stop this - not because we did not try and do everything we could within our ability and means, but because what Eddie needed - competent, compassionate and thorough medical care - we simply could not provide. Whatever little faith we still had in any part of "the system" is gone. We learned a painful lesson that in the end we have to look out for ourselves, because those with the power over our lives cannot be trusted. Many people have Eddie's blood on their hands, and as much as I know I am supposed to find it in my heart to forgive them, right now I am only wishing that they rot in Hell. I know they will not suffer pangs of conscience on this earth because they are heartless sociopaths. If I had not witnessed this first hand, I never would have believed that such cruelty and indifference could be inflicted on Eddie by those who took an oath to do no harm.
While too many people spend their lives engorging themselves on the poison fruit of excess, Eddie only wanted to be a Physical Therapy Assistant, care for our grandmother in her last years, have a little cabin somewhere, live off the land, and provide for his fiancee Yvette and her son Adam. He had a passion for helping people and ultimately his inability to do, after being betrayed by the people in his own chosen field, is what sealed his fate.
Eddie was also a songwriter, musician and lyricist, and one of the most painful things he had to face was when his ever growing physical problems made it impossible to play his music. He always regrettted never finishing up a planned last Snag album. It was touching to see how many other musicians were inspired and motivated by his work.
I could write more but it will be pointless. My dear brother is dead, and though it was by his own hand I still do not consider it a suicide. I will have to live the rest of my life knowing that my brother was murdered by the neglect and indifference of those who were supposed to care for him. I can now only pray that he is at peace. I have nothing else to hope for or any pithy positive sentiments that will only be a feeble attempt to mask the sickening pain we are in. While there are numerous lines that both Eddie and I have written that could express what I am feeling now, instead the verse I will leave you with has been paraphrased from Don McClain's "Vincent" - this is a song that for some reason I have always imagined being sung about either myself or Eddie, and I have never been able to listen to all the way through for that reason.
"...And when no hope was left in sight On that starry, starry night,
You took your life, as lovers often do.
But I could have told you, Eddie,
This world was never meant for one As beautiful as you."
Eddie Williams 1969 - 2011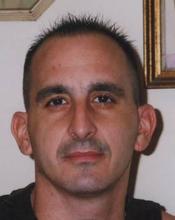 February 7, 2010 - Thanks to everyone who came out last night to support my family. ALl proiceeds from the show will go toward my brother Eddie's mounting medical bills. It was good to see so many people I haven't seen in so long, who still care about Eddie. Thanks to Condemned, Snag, and The Fiendz for performing, and thanks again to Jerry from The Fiendz for putting everything together.
May 1, 2009 - The COmrades newest album Faceless Landscape is officially released. See our discography section for purchase, or free downloads.
February 3, 2008 - I just received word that our orignal drummer, Andy Goulbourn, passed away. He now joins his brother Steve and his long time girlfriend Lisa Trombino. Let's pray that they are together again. Obviously his remaining family is devastated. Andy's "unique" drumming style was one of the many things that made The Comrades one of the more "experimental" groups in our area back in the early 80s. I will be posting some of the old Comrades songs he wrote as a tribute to him. Unfortunately, as things go, I had not heard from him since Lisa passed away, but maintained contact with his mom. I should have tried harder. Andy, you were never far from my thoughts and in my dream world I always imagined the day when somehow the orignal band would play again just one last time. Looks like that will have to wait a while ... if we all make it up there. Good bye Comrade. I will always love and remember you. Give Steve and Lisa my love too. - Jimmy
January 22, 2008 - DUe to numerous difficulties (what's new?) most of the new album tracks had to be scrapped altogether. At this point most have been re-recorded; some additional work on the lead guitars still needs to be done and after that the mixing and mastering. Yes, we WILL put it out! It will be called Faceless Landscape and it is probably our best work yet.
August 23, 2006 - Yes, we are still here! The album project is going slow but all of the tracks are recordsd nd only the mixing is left to finish. We performed live on WFMU in June and we will be playing our first "real" show in over a year and a half this coming Saturday at the Underpass in Elmwood Park, NJ. As Darren and I both just turned 40, I guess we're now officially an "old" band!
January 17, 2005 - There was a problem with the account we were using to make our MP3s available. We have moved them to a new location. See the Multimedia-Free MP3s link. All of our albums are available for free download. The Invisivle Hand and A Spectrum of Light are no longer available in CD form so please feel free to download these albums.
January 13, 2005 - We are almost finished recording our new album. We are doing all the recording ourselves digitally. The album will contain twelve all new tracks and is as of yet un-named. It will hopefully be independently released in early 2005. Also, we are actually making another rare live appearance in Philadelphia on February 5. Please check out our shows page for more details. As you know we don't get out much so I hope to see some of you there!
February 29, 2004 - It is with great sadness that I must report another death in the Comrades "family." John Troy, who had originally recorded the first COmrades demo tapes in 1983, and has continued to work with the band in the years to come, passed away today. He had also recorded most of the songs on The Invisible Hand and recorded the first demo copy of Illusory Refuge. Johnny was a talented musician in his own right and had been very active in the Country music scene. A song he co-wrote, "The Man who Moaned the Blues", went to number one in Europe a few years ago. Johnny had a long history in recording, playing, and producing music, both his own and others. Johnny was also a close family friend for many, many years. I was supposed to do some work with Johnny on an acoustic project a few months ago, but soom after he informed my that he had cancer and was undergoing treatments. Johnny was a very special person to me, as well as an inspiration to continue playing and writing for the love of it. I will never forget all that he did for me and the band and will carry his memory with me forever.
January 29, 2004 - Sadly, I found out today from our orignal drummer Andy that his girlfriend of 20 years, Lisa Trombino, passed away after a long battle with cancer. I had last spoken to Lisa a few months ago and she had taken a turn for the worse since. Lisa was a wonderful person who will be missed by all who had the privlege of knowing her. As I reported some time ago, Lisa also lost her father in the WTC attack. Andy also recently lost his brother. Please keep both families in your thoughts and prayers.
December 5, 2003 - Our December 5 show at Connections (with The Accelerators, Roots Rock Rebel, and Shock Mobatta) has been cancelled. The entire show is to be rescheduled. We will let you know when that happens.
October 25, 2003 - The website has been redesigned. Please write to us and let us know what you think.